Authors Christine Koh and Asha Dornfest are about to release a fresh perspective on having it all by cutting out the "noise." The book will be released on March 19 and I'll write a full review when I've had a chance to read it. In the meantime, I invite you to join me in MinCamp!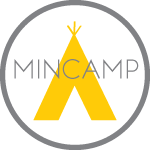 MinCamp is a 14-day challenge to move you in the right direction. I just finished day 6 and I am feeling great about my progress. The 15 minute challenges are just perfect for fitting in after the kids have gone to bed or during nap time. Without giving away their process (seriously, click on the link and sign up!), I've had reflective time and action time that helps center me and give my actions purpose. The actions are in small enough chunks that there is no inner pull to put them off until you have enough time. The badges you earn after completing each challenge help you end the day with your own personal gold star. Each day you will receive an e-mail from the authors with directions on the day's task and related links. If you like the MinCamp as much as I have I know you'll be looking for the book for more!
Best of luck with your journey - let me know if you join!